Regular price
$9.99
Sale price
$9.99
Unit price
per
Sale
Sold out
Share
Please note

- This is a digital product. You will not receive any physical elements with this purchase.
- The stickers are included with the planner.
- You will need a separate PDF annotation app to use the planner.

- Color variations in screens and monitors may cause the planner to appear slightly different in color.

- This planner is not suitable for printing.
Terms of Use


This product is only for PERSONAL USE. 
You may not: sell or give away the original files nor use any portion of the files to create a new design to resell.
Usage is monitored frequently to prevent abuse. Violating the TERMS OF USE will be considered copyright infringement and will be reporte
View full details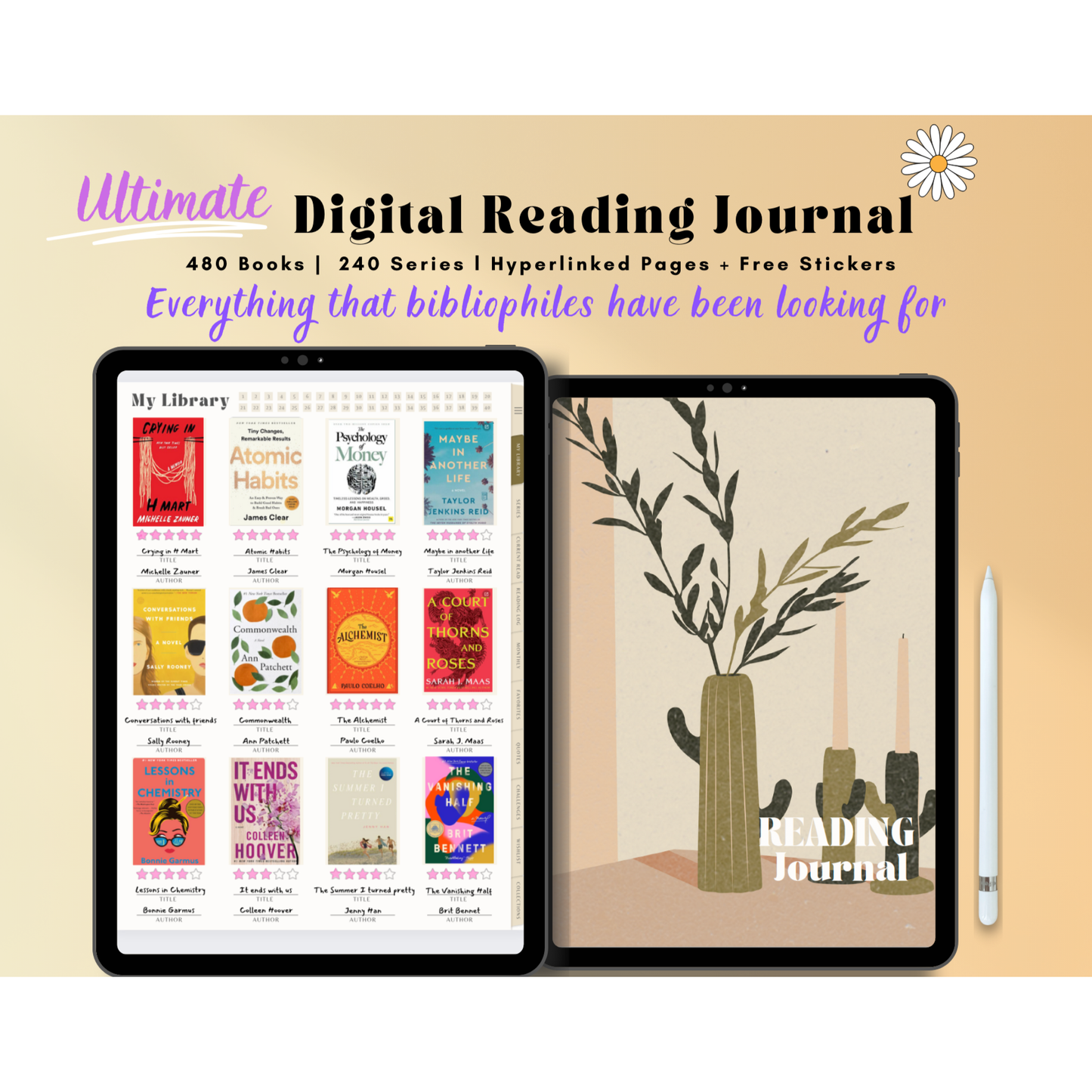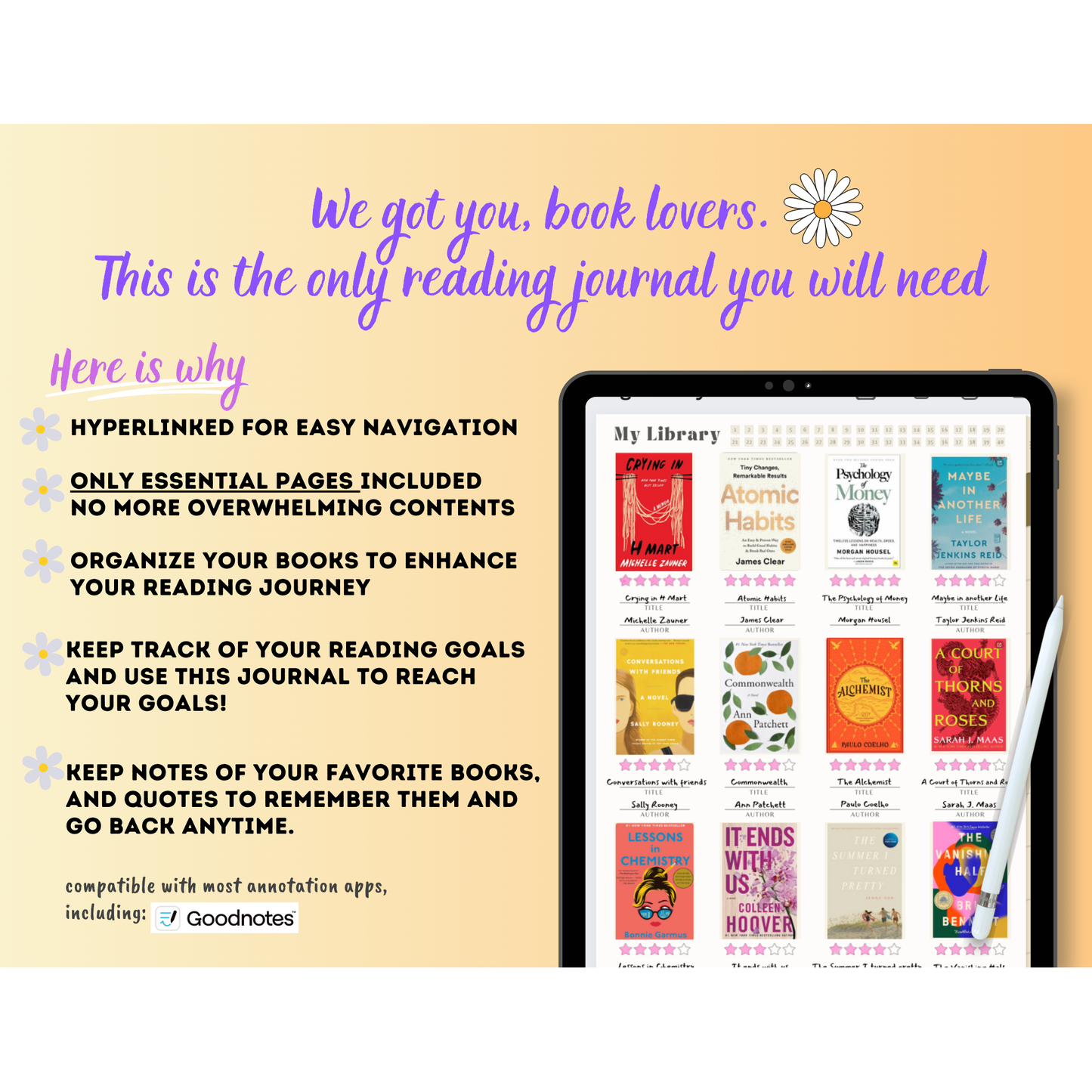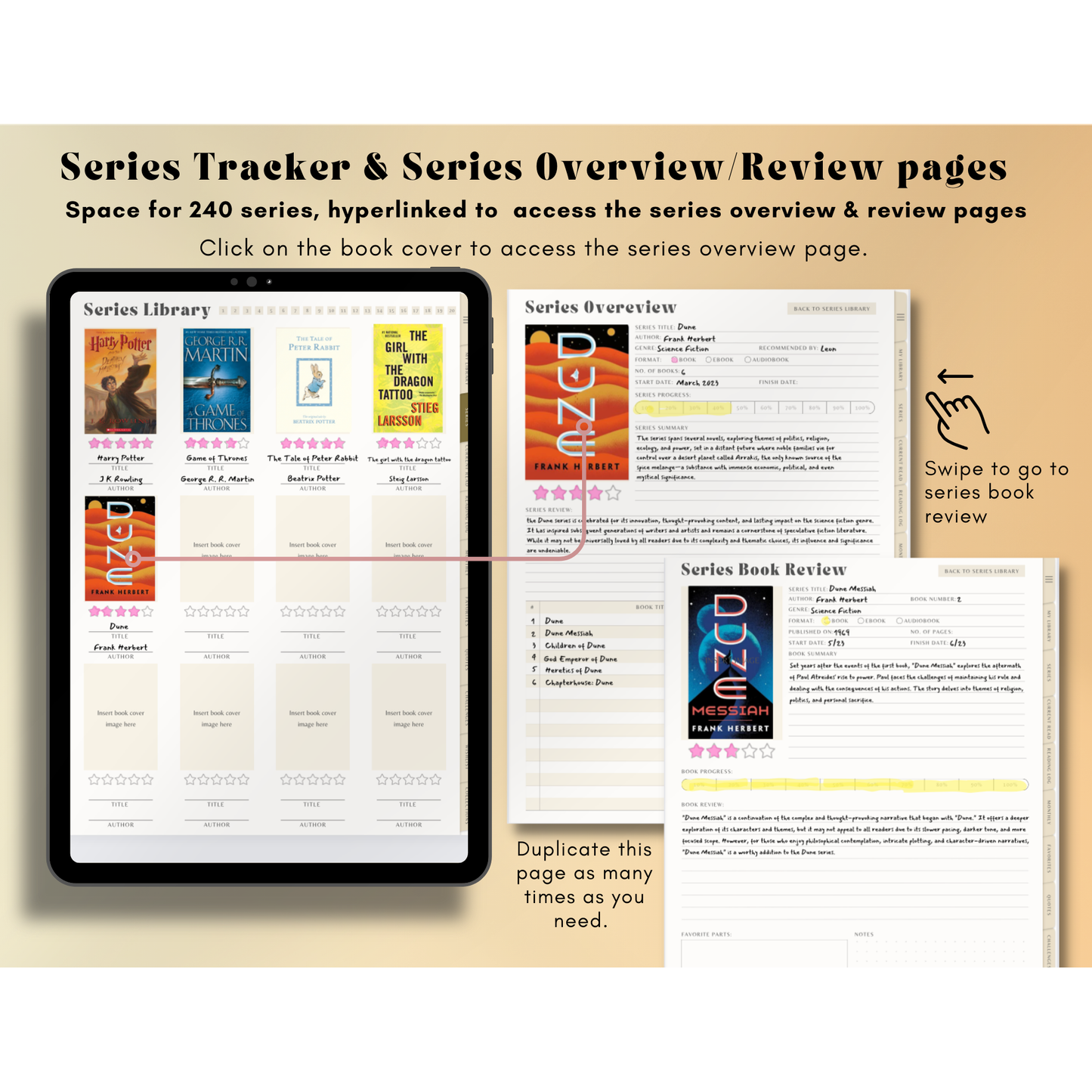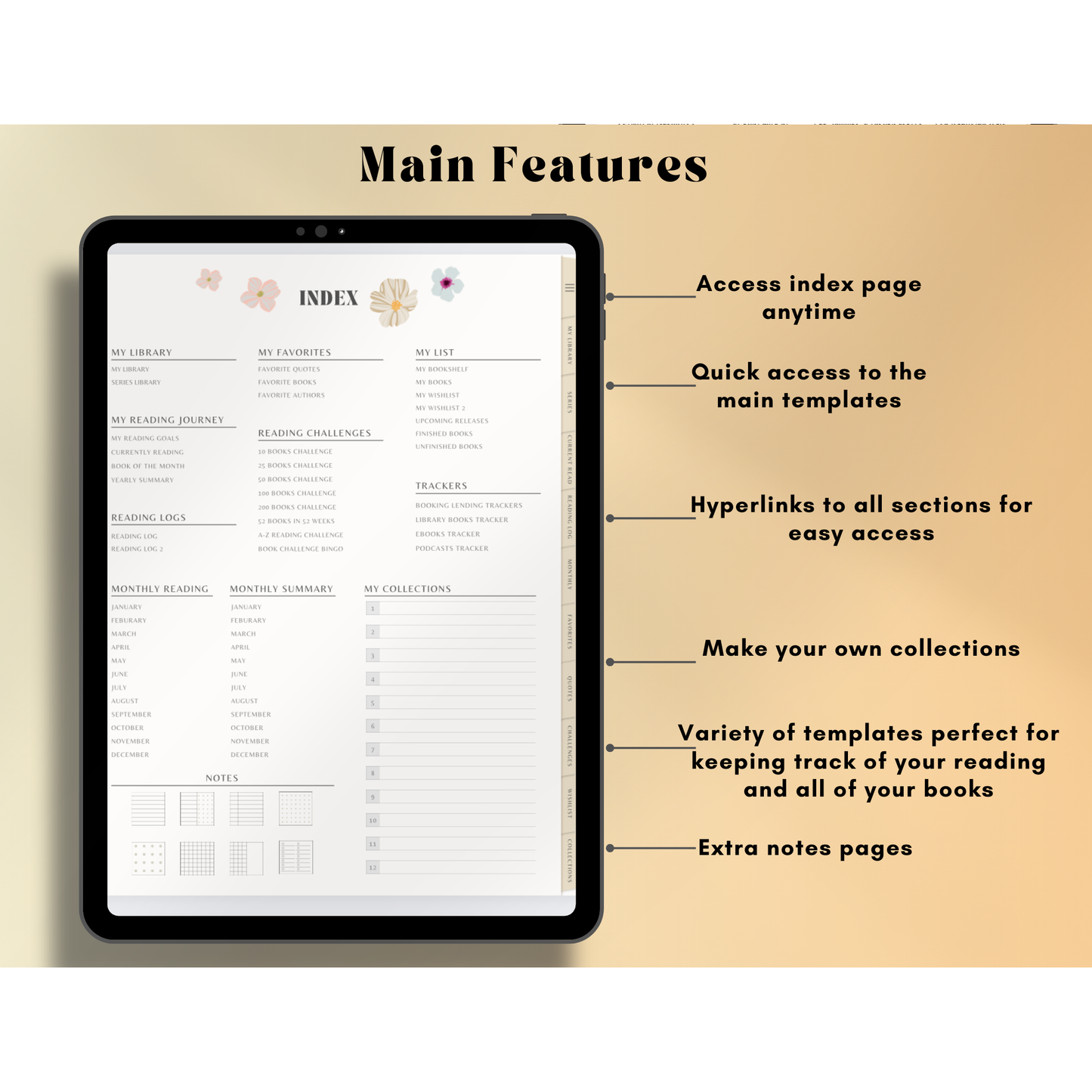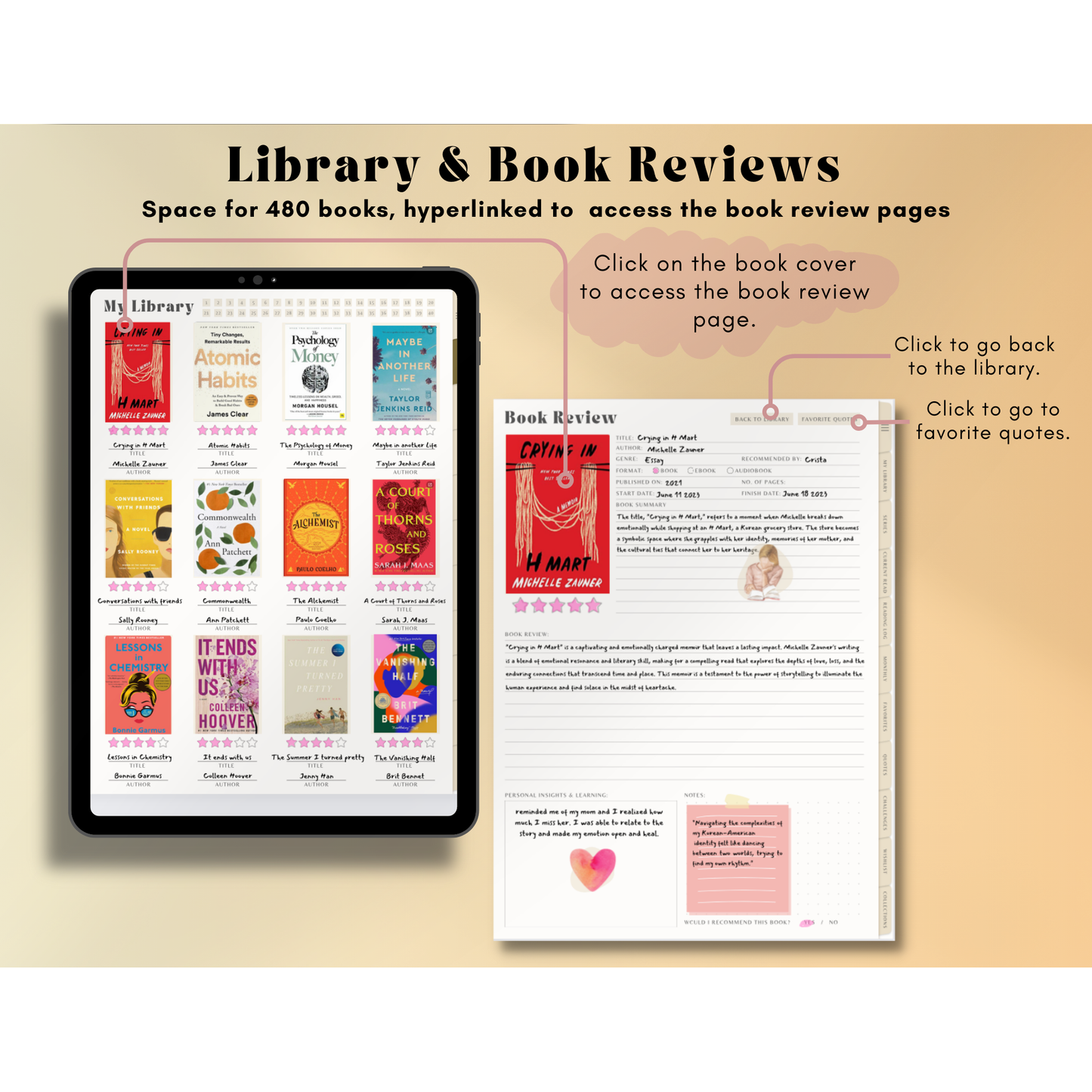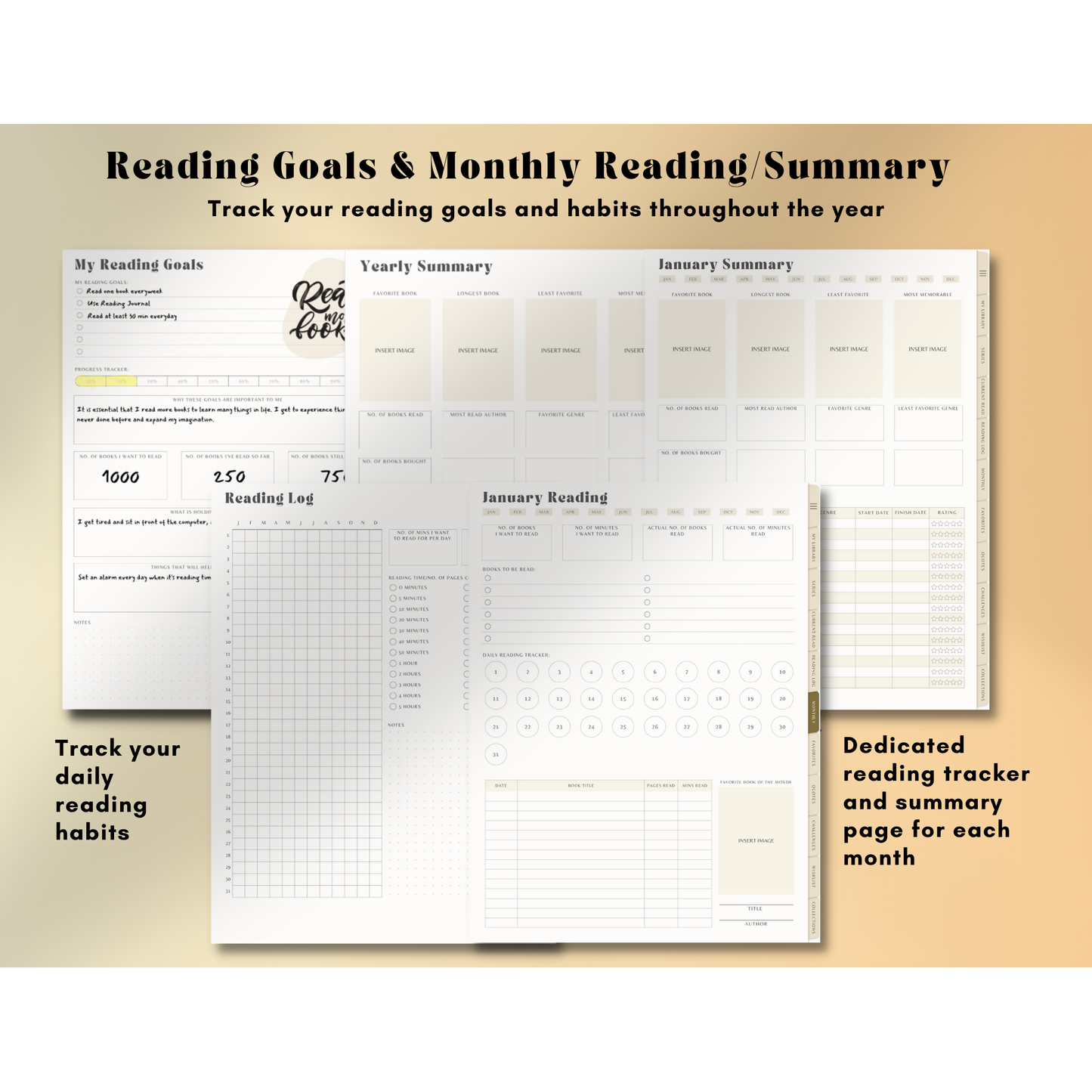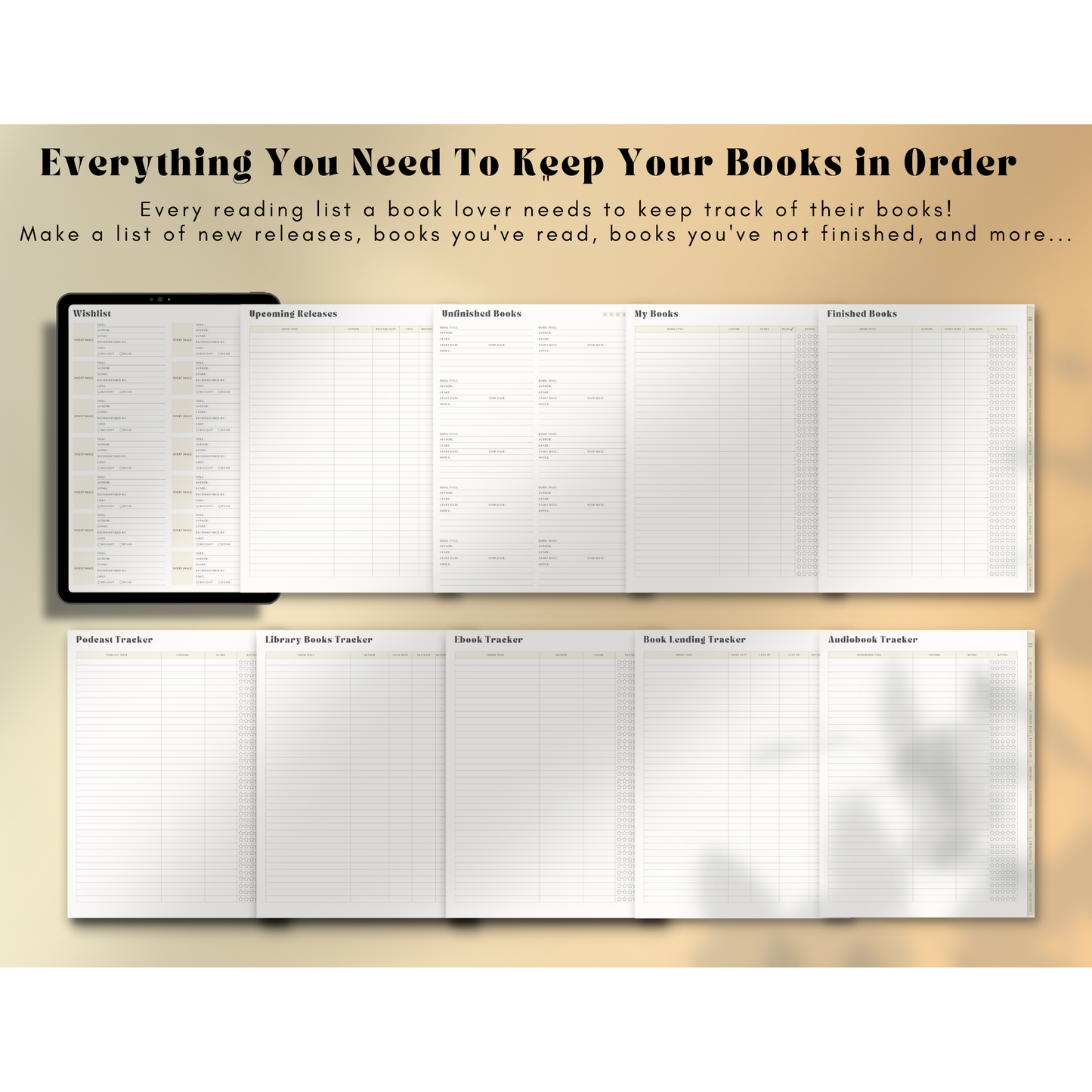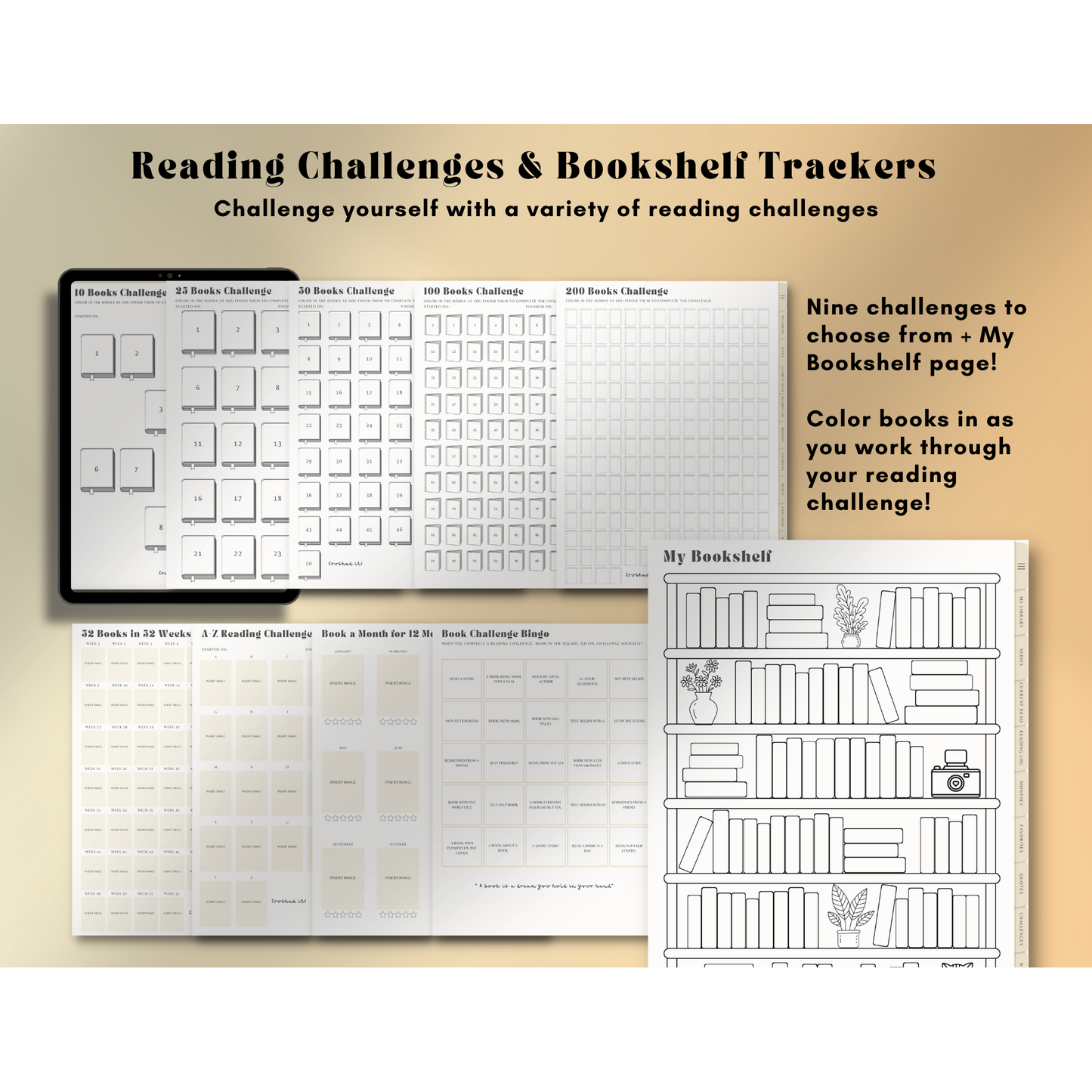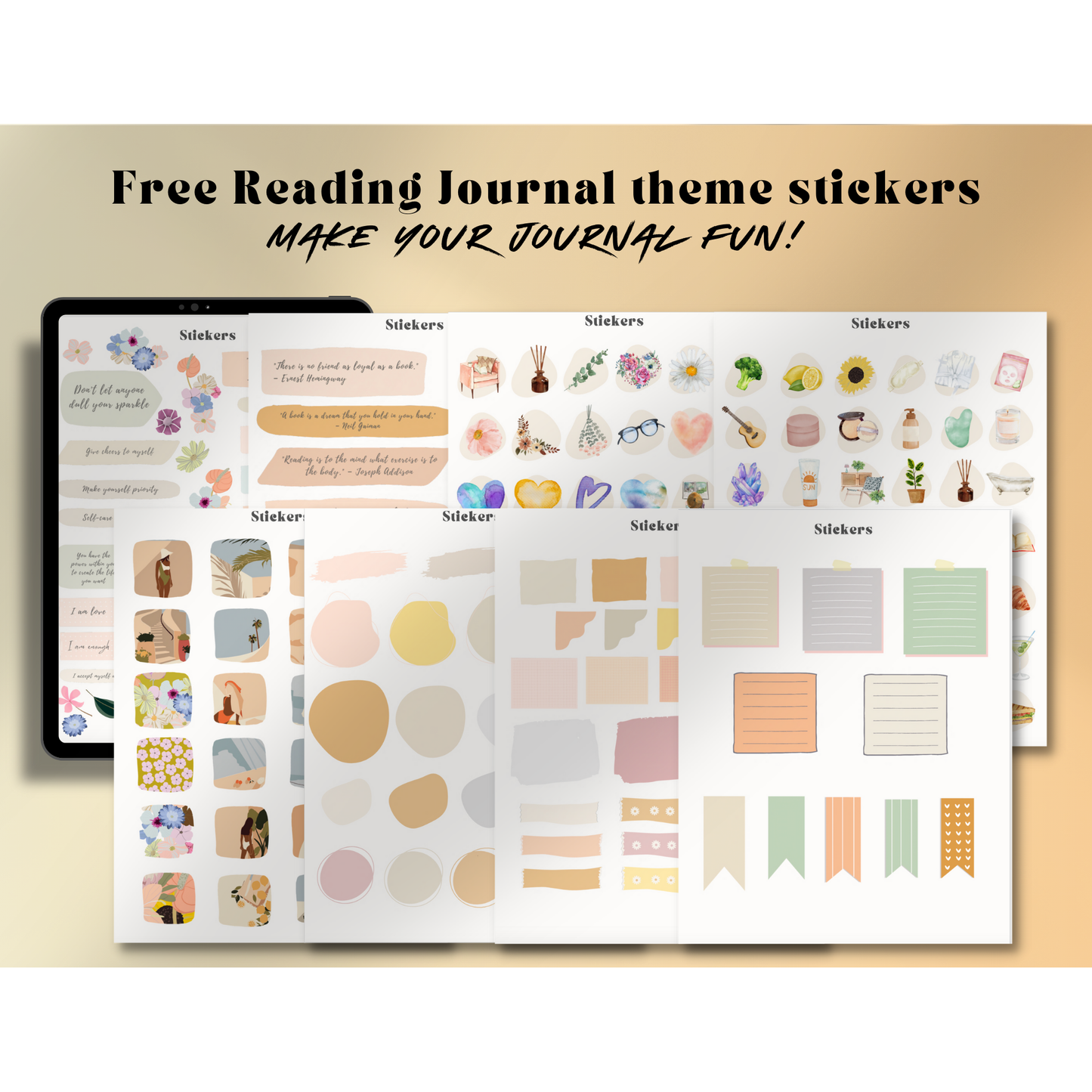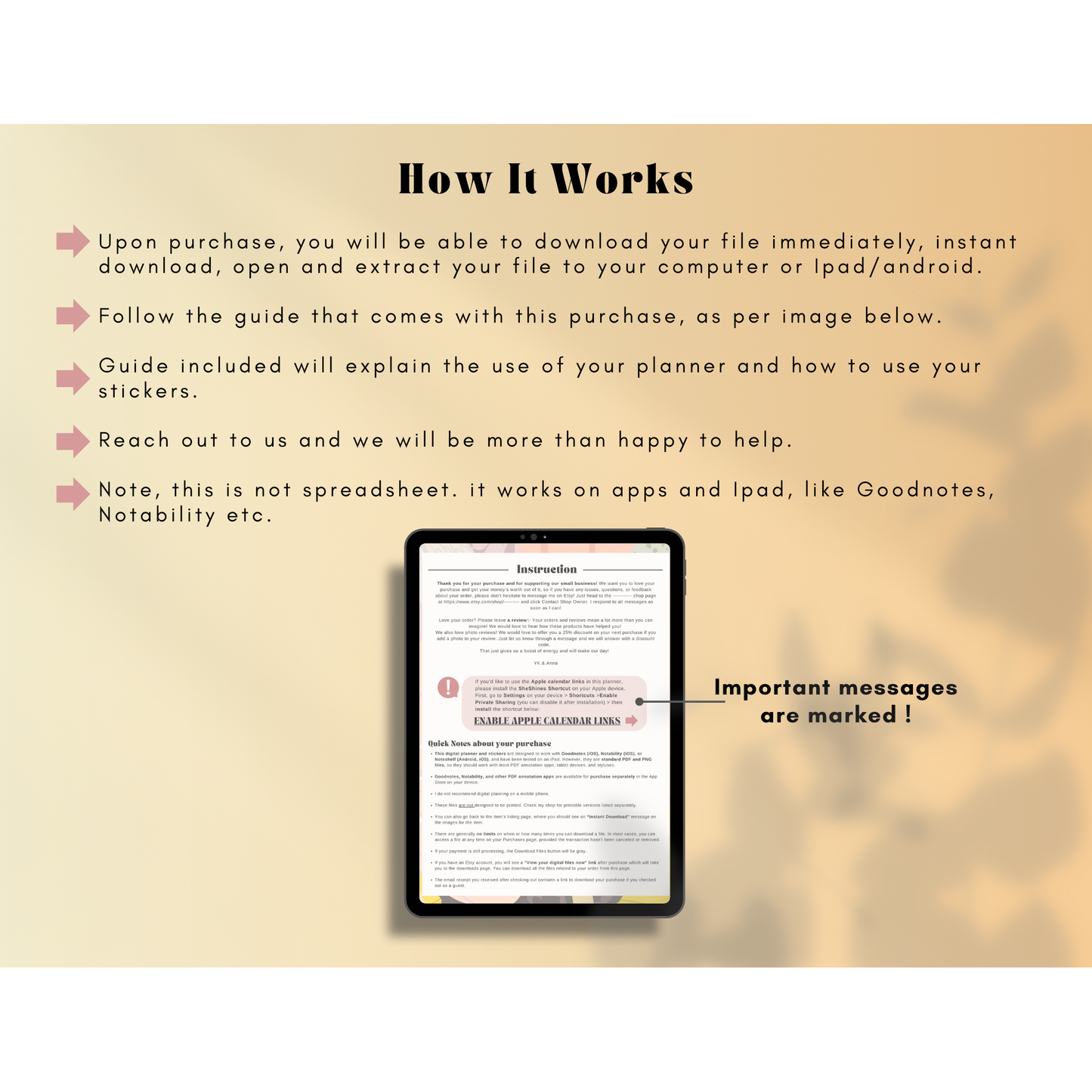 Digital Reading Journal
Introducing the Ultimate Digital Reading Journal: Your New Best Friend for Book Lovers!

Hey there, fellow book enthusiast! Did you know that scribbling down notes and little memos about the books you read can make your reading adventures even more memorable? Unlike those other run-of-the-mill journals, our Ultimate Reading Journal is like a personal sidekick that not only helps you keep your book collection in check but also supercharges your reading goals, taking your reading game to a whole new level of awesomeness!

Imagine being the superhero of reading with the Ultimate Reading Journal. You get to track a whopping 480 books and up to 240 book series – now that's some serious bookworm power! Whether devouring a novel or diving into a series, you'll have a blast jotting down your thoughts and keeping tabs on your reading habits. And guess what? Your bookshelf is about to get a serious upgrade!

With this nifty Reading Journal by your side, get ready to:
* Read Like a Boss: Knock out more books than you ever thought possible and explore a world of genres like a true reading champ.
* Dive Deeper: Plunge into the heart of each story, uncovering hidden gems and enjoying books on a whole new level.
* Stay Super Organized: Wave goodbye to book chaos – this journal's got your back when it comes to keeping your literary treasures in order.
* Boost Your Reading Mojo: Say hello to a more productive and engaging reading routine that'll have you totally hooked.
* Share the Book Love: Ever tried explaining a mind-blowing book to a friend? Now you can do it like a pro, thanks to your newfound book wisdom.
So why wait? Get ready to rock your reading world with the Ultimate Reading Journal. Your reading adventures are about to get a whole lot friendlier and a whole lot more fun! 📚🎉

WHAT'S INCLUDED:
📚My Library
📚Series Library
📚My Reading Goals
📚Currently Reading
📚Book of the Month
📚Yearly Summary
📚Reading Log
📚Monthly Reading Tracker
📚Favorite Books
📚Favorite Quotes
📚Favorite Authors
📚Reading Challenges-10, 25, 50, 100, 200, 52 books in 52 weeks. A-Z reading. Book challenge Bingo
📚My Book Shelf
📚My Books
📚My Wishlist
📚Upcoming Releases
📚Finished Books
📚Unfinished Books
📚Booking Lending Trackers
📚Library Books Tracker
📚EBooks Tracker
📚Podcasts Tracker
📚Audiobooks Tracker
📚My Collections
+8 different types of notes!
+Super Duper Cute Stickers to decorate your Forever Reading Journal

WHAT YOU'LL RECEIVE:
-
1 PDF with our Ultimate Digital Reading Journal.
-1 PDF instruction guide on how to download and import digital journals in the notation App. (Sticker set ready to be used in GoodNotes & individual PNG files)

Copyright © 2023, HeyDaisyDay. All rights reserved.